Creatives
Creator Series: Katy Guillen and The Drive
Katy Guillen and The Drive's Katy Guillen and Stephanie Williams discuss how the pandemic affected their touring schedules, and why COVID-19 gave them a new approach to creativity.
By Atoms Team on 11.30.2020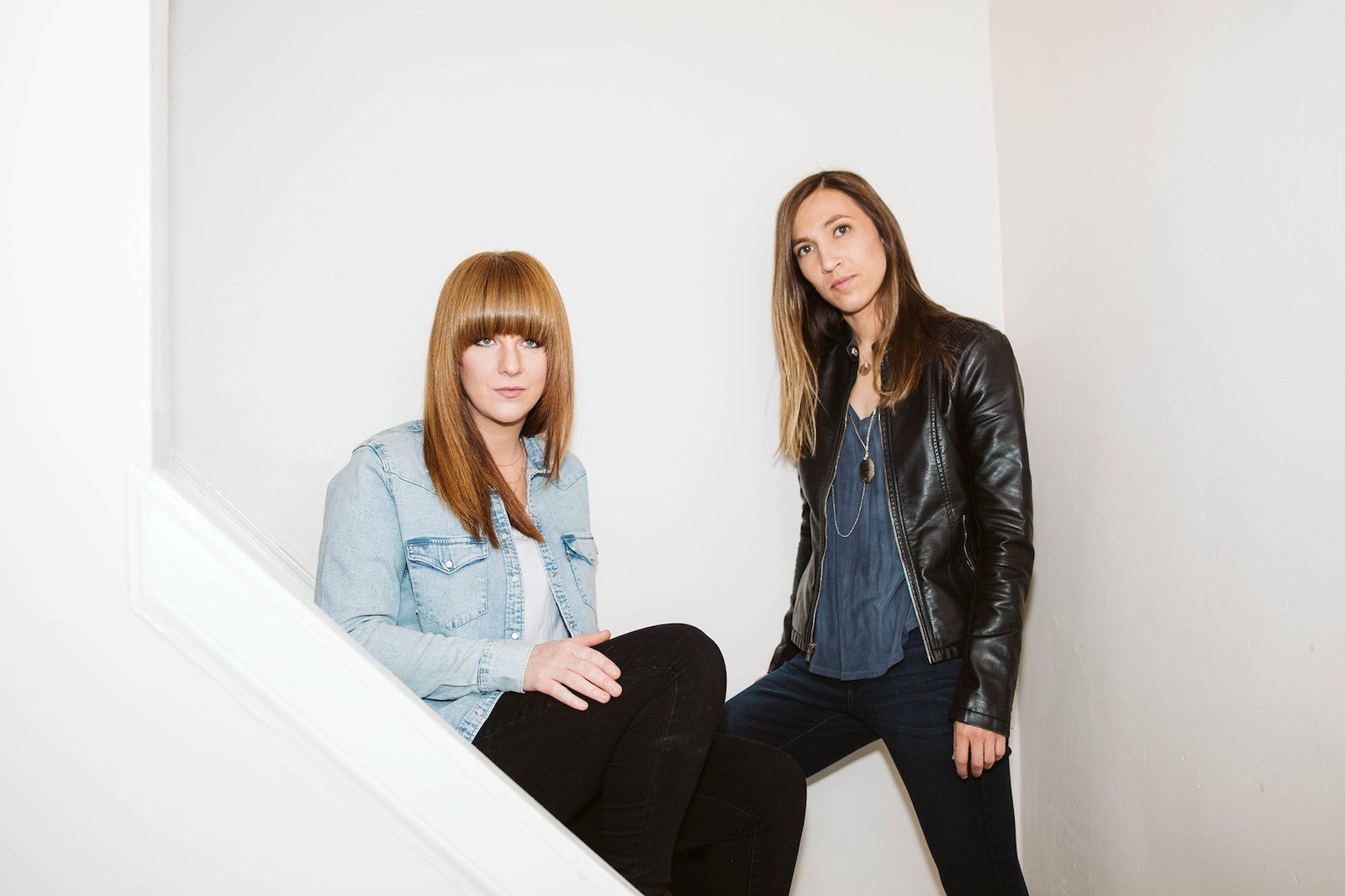 Katy Guillen and Stephanie Williams carved a reputation for themselves in the Kansas City, Missouri music scene with their soulful rock sound as Katy Guillen and The Drive. But, as COVID-19 swept the nation and the world this spring, the pair had to rethink their touring strategy. They did so by staging a number of livestream performances, but after returning to the stage for a socially-distanced performance, they also returned with new ways of thinking creatively. Despite the pandemic, the band has been keeping busy this year, releasing the emotional single "No Control," as well as the EP Dream Girl. Atoms asked the two how they got their start in music, how they're coping with the pandemic, and how they feel while performing in a pair of Atoms.
When did you first get serious about being a musician?
Katy Guillen: I first got serious about being a musician when I was about 14, which was when I started going to blues jams. I had been playing for a few years, taking lessons and playing at home up until that point. But it took it to a whole new level when I started to play with other people, people I'd never met, and play songs I'd never heard, in a public setting. It put me outside of my comfort zone. Those experiences helped me realize that music was something I couldn't get enough of, it was my strength and a great way to connect with people. Now it's my career, and it's given me the chance to connect with different people from all over the world.
Stephanie Williams: Drumming has always been my passion, so in a way I've always been serious about being a musician. If I had to place a marker on when I started to consider the possibility of playing professionally, I would say it was around the time I started playing with Katy. I had great experiences playing with various projects leading up to the start of our band, but Katy inspired me to take a more business-minded approach. The entire process has been very organic. It started with an immense love for playing and expanded into a career. I feel very fortunate for the opportunities it's provided.
Katy, what's your go-to guitar these days? What do you reach for most?
Katy: My number one is my butterscotch G&L ASAT for electric and most of the playing I do with Katy Guillen and The Drive. I love to play my flamenco guitar in the mornings. But I do the most songwriting on my acoustic Alvarez.
Steph, what's your drum set up looking like these days?
Steph: I'm currently playing a DW Performance series kit and Zildjian K cymbals (with the exception of one Dream crash cymbal that I adore). I just upgraded to a 24" bass drum. This basically just means that I get to sound bigger and louder than before, so I'm excited about it.
How have the events of the past year affected your creativity?
Katy: The last year has been a challenge. We've never ever had this much time to work on music at home, and at first we were really productive with the excess of time. But as the months dragged on, and the long term reality of the pandemic set in, there have been some mental and emotional ups and downs- just not knowing when things will get better and when we can get back to our normal way of working. Not to say we haven't been creative — we've finished lots of songs, done lots of home recording, made videos, and I've been writing here and there. We've done live streams and a couple of outdoor socially distant shows. If anything, this pandemic has opened up a whole new and different area of creativity. Not just your traditional artistic creativity, but also a pragmatic sort of creativity, like how do we stay engaged with our fans without touring and in-person interaction, how do we share live music, how do we sustain our careers through this pandemic? All of those questions have required creative answers.
At what point did you realize you had to pivot as a band and what does that look like?
Katy: We pivoted fairly immediately back in March, when it became clear that live shows would be on hold indefinitely. Within that first couple of weeks of lockdown, we did a live stream and in the months to follow did a variety of live stream shows, posted videos we made at home, and tried to stay in touch and engaged online since in-person interaction just wasn't safe enough. It's been a new way of going about being a band, and it's all been a learning process since we used to rely heavily on playing live shows and touring. So this 'pivot' has had a bunch of learning curves, and seems like it's always unfolding. There's not a formula or an approach to this new way of 'being a band' like there was before. We're just trying to stay focused on what we can do versus what we can't.
How did it feel to finally play in front of a crowd again at outdoor socially distant venues?
Katy: It felt great! It also felt a little weird just because we'd never taken so much time away from playing live, and were cooped up for an unusual amount of time, so it felt like we were remembering what it felt like as it was happening. We missed so many things about playing shows. I think for most musicians who perform live regularly, it's a feeling and routine that becomes ingrained in you, like it's part of your body, brain, and heart. The feelings you get from shows is everything — nerves, excitement, focus, adrenaline, feeling beat up or tired from putting your whole body into a performance and then loading up your gear. Then to share those feelings with people who want to feel something too, who just love live music — there's nothing like it.
How did the energy differ from pre-Covid times? Did the distance of the crowd impact you in any way?
Katy: We thought that it might be strange at first, knowing that the shows would need to be a different format mainly for the audience with social distancing and masks. But honestly, we didn't feel like it impacted the energy in a bad way at all, it was just different. We could feel people's excitement and they were genuinely happy to be there since it was likely one of their first live shows in a long time too. But we look forward to when people can get a little closer to the stage again and dance with each other.
You usually spend most of the year on the road, what were some of your most memorable gigs and why?
Katy: Over the last couple of years of shows on the road, one of my favorite gigs was the west coast tour we did as support for guitarist Robin Trower. We played some of the most memorable and historic rooms on that tour, it felt like a dream. The top two venues were The Fillmore [in San Francisco] for the building's incredible history and the crowd energy, and The Wiltern [in Los Angeles], also for the building itself and the amazing sound there. You can't help but feel good vibes in places with so much good music history.
Who inspires you as musicians, and why?
Katy: It's hard to narrow it down, but Erika Wennerstrom has always inspired me as a songwriter and singer. She is one of the most unique and powerful vocalists I know of, and her writing has an authenticity to it that seems so natural and real. Also, I was into lots of old blues as a young girl. Some of my earliest inspirations were musicians like Robert Johnson, Muddy Waters, Big Mama Thorton, and then moved into some newer ones like Susan Tedeschi and Jimi Hendrix is another favorite.
Steph: I'm inspired by people doing what they love. I've had a bunch of favorite musicians over the years, some of the big ones have included Band of Skulls, Manchester Orchestra, Zeppelin, and The Beatles. As I've grown and played in projects with Katy, I've also discovered a ton of great blues and soul artists. I can find inspiration in almost any music, but I find that I'm especially drawn to tight rhythm sections and creative grooves.
Are you aware of the palpable boss energy you present when you play your instruments, or do you just black out when you're performing?
Katy: Haha, that's not something that either one of us ever thinks when we're playing. We love playing together, and for myself, there's a palpable and strong energy I get when I play with Steph, unlike playing with anyone else. That feeling I get when I play with her has always made me want to push myself as a performer and player. Sometimes you find that person that you're at your best with as a player and performer.
What artists are you listening to these days?
Katy: Band of Skulls, Erika Wennerstrom, Adrienne Lenker, Janelle Monae, Junior Kimbrough, Fanny, Lucius, Delta Spirit, Nathaniel Rateliff, and David Bowie. We're all over the place.
Name an album you recommend.
Katy: The first one that pops into my head is Adriene Lenker's Hours Were The Birds. Lenker's writing flows in such an honest way, it's just relaxing and cathartic to listen to. Her voice is delicate and pretty but when it gets big you feel her vocal power. The instrumentation on this record is simple — acoustic guitar, recorded in a way that feels like you're inside of a log cabin with just her and her guitar. One of my favorite things about Adriene's songwriting is her vocal meter over her guitar playing — it is something that when you hear at first you don't think about immediately because it's so natural for her. But after multiple listens with a musical ear, you notice how the way she sings over her playing has a unique rhythmic push and pull, and it feels so genuinely original to her. It's just a beautiful and wonderful album, start to finish.
Steph: Nathaniel Rateliff's And It's Still Alright has been a lifesaver of an album this year. It's a collection of songs that explores loss in a way that feels cathartic and not completely terrible. I've been a fan of Nathaniel Rateliff and The Nightsweats for a long time, so I was looking forward to his solo release. This album has a different vibe from the band's catalogue, so the emotional connection I felt to the songs came as a bit of a surprise. It's an intimate and authentic album, and it was exactly what I needed this year. The performance and production are great, and the songwriting is incredible. I'm by no means a music critic, but I would suggest this record to anyone. Just be prepared to feel something.
Have you been going on walks during quarantine? What do they do for you?
Katy: We've been going on bike rides more than walks, and we've gone on some hikes too. Obviously, when you spend so much time at home and inside, you have to get outside. It seems to refresh and re energize when we're able to get out into the fresh air and move around, get the blood flowing. Since we haven't been able to play live and tour, a huge physical part of our lives has been missing. Playing shows and touring kept us in shape. So to do some intentional exercise helps us feel better, and stay as healthy as we can both physically and mentally.
What is your relationship with footwear?
Katy: I usually find a pair of sneakers that I like for both the comfort, price, and look and wear that one pair almost exclusively until they get holes in them. I'm for sure going to wear out my Atoms.
Steph: I just want to feel comfortable and look like I have my life together. Good footwear helps accomplish both.
How do you like your Atoms?
Katy: Atoms shoes are very comfortable and honestly we've gotten lots of comments from random people about them based on how they look. I love how the design is simple and doesn't have a name or symbol on the outside. I actually wore them to our last socially-distanced show for load in (I always wear a pair of load in shoes, and then show shoes which are usually boots), and realized that I'd forgotten my boots, so I wore my Atoms for the whole show. They were so comfortable and I felt way more balanced and energetic in them than 'show boots.' Thinking about making the switch to Atoms as my new show shoes.
What's next for you as a band?
Katy: It's hard to say with times being as they are still, but we want to record and release a full length, possibly another EP, and we'd love to tour on it. But for now, we have to be patient and responsible and do as much work as we can from home. We'll mostly record and live stream in the next few months. We're hoping to get back 'out there' to some degree in 2021, depending on the state of the pandemic.