Creatives
Creator Series: Samuel Jablon
With a new exhibition at Nancy Littlejohn Fine Art in Houston, the Brooklyn-based painter and poet Samuel Jablon shares his favorite poetry books.
By Atoms Team on 10.21.2020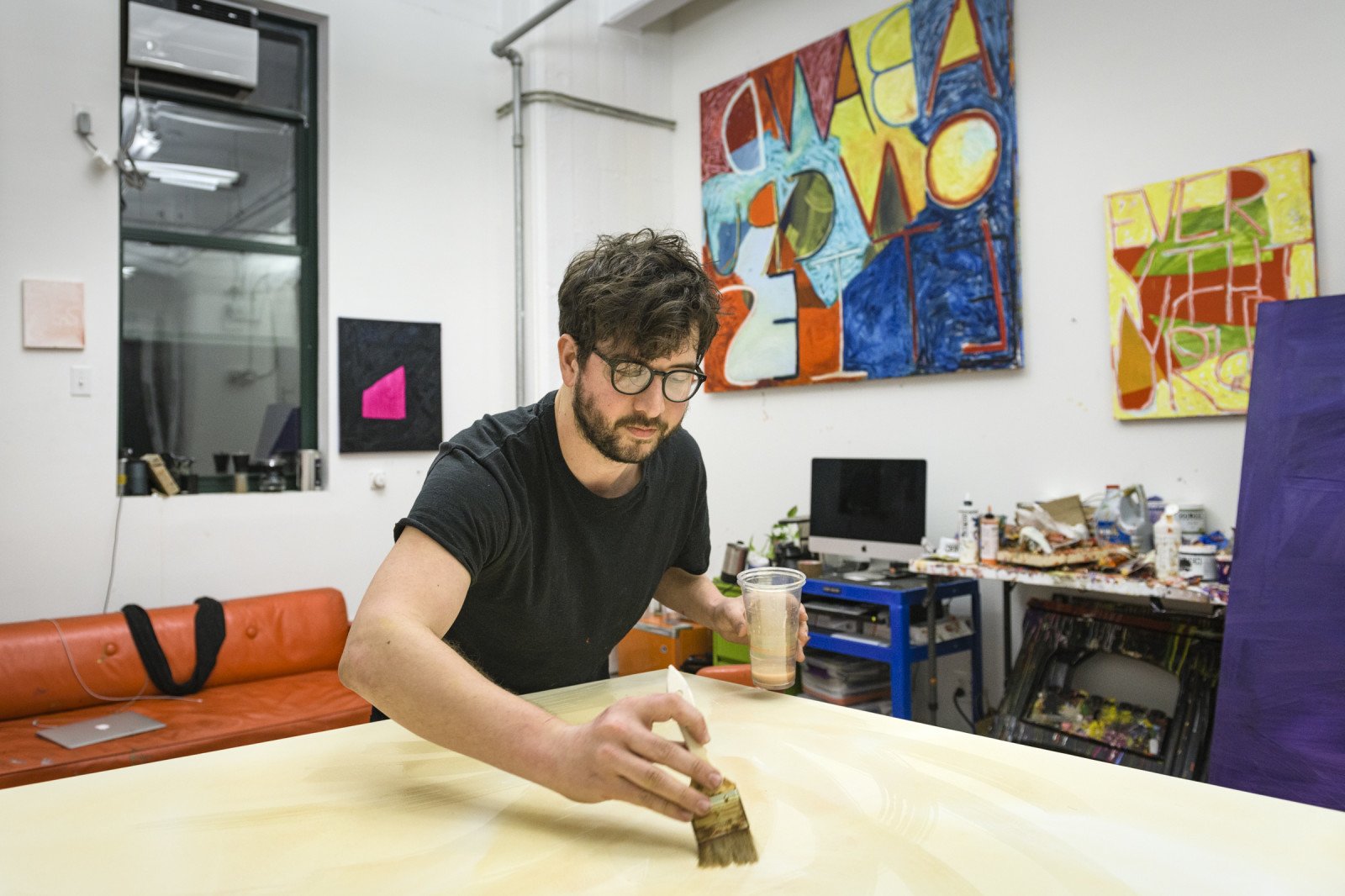 Samuel Jablon works at the intersection of painting and poetry, turning words and phrases into colorful, energetic compositions that form an alternative method of visualizing text. Jablon studied with the renowned poet Bob Holman as an undergrad, and then under the artists Archie Rand and Vito Acconci, who all helped him form his distinct aesthetic. He paints words and phrases like "FUCK," "SUN SUN SUN," and "TROUBLE," many of them alluding to the current state of the world as well his own mood, captured with brush strokes that range from frenetic to calm and intentional. In his latest exhibition, Nothing Bad Happens, on view through November 28 at Nancy Littlejohn Fine Art in Houston, Jablon encapsulates the mood of 2020 with seemingly ominous texts.
"The texts of many recent paintings, texts that usually begin with poems by the artist, beg to be read as commentary on the anxious moment we are all facing: 'Out of control,' 'Don't Panic,' 'Eat Disasters' and, more bluntly, 'Chaos' and 'Trouble,'" writes art critic Raphael Rubinstein in the exhibition text. "Another ominous sounding phrase, 'Evil Flowers,' is no doubt a nod to Baudelaire's collection of grim symbolist lyrics, Les Fleurs du Mal. As he has done on other occasions, for this exhibition at Nancy Littlejohn, Jablon invites us to read the ensemble of paintings on view as constituting a single poem."
Jablon lists his favorite poetry books, from Yuko Otomo's Study to Bhanu Kapil's Schizophrene:
Study by Yuko Otomo
"Yuko is one of my favorite poets. Each poem in this book is inspired by art and artists."
"There is a wildness to the way Sun Ra writes that I admire. This book offers a depth of his different styles."
"This book captures snapshots of emotions and events. All the poems are only a few lines."
"I've always liked Corso for his rudeness and honesty."
"This book is always moving; it's both settling and unsettling."