Product
The Making of Atoms in Tie-Dye Blue
Atoms co-founder Sidra Qasim found inspiration for the Tie-Dye Blue Atoms in the sky above the brand's Brooklyn Navy Yard office.
By Ann Binlot on 09.21.2020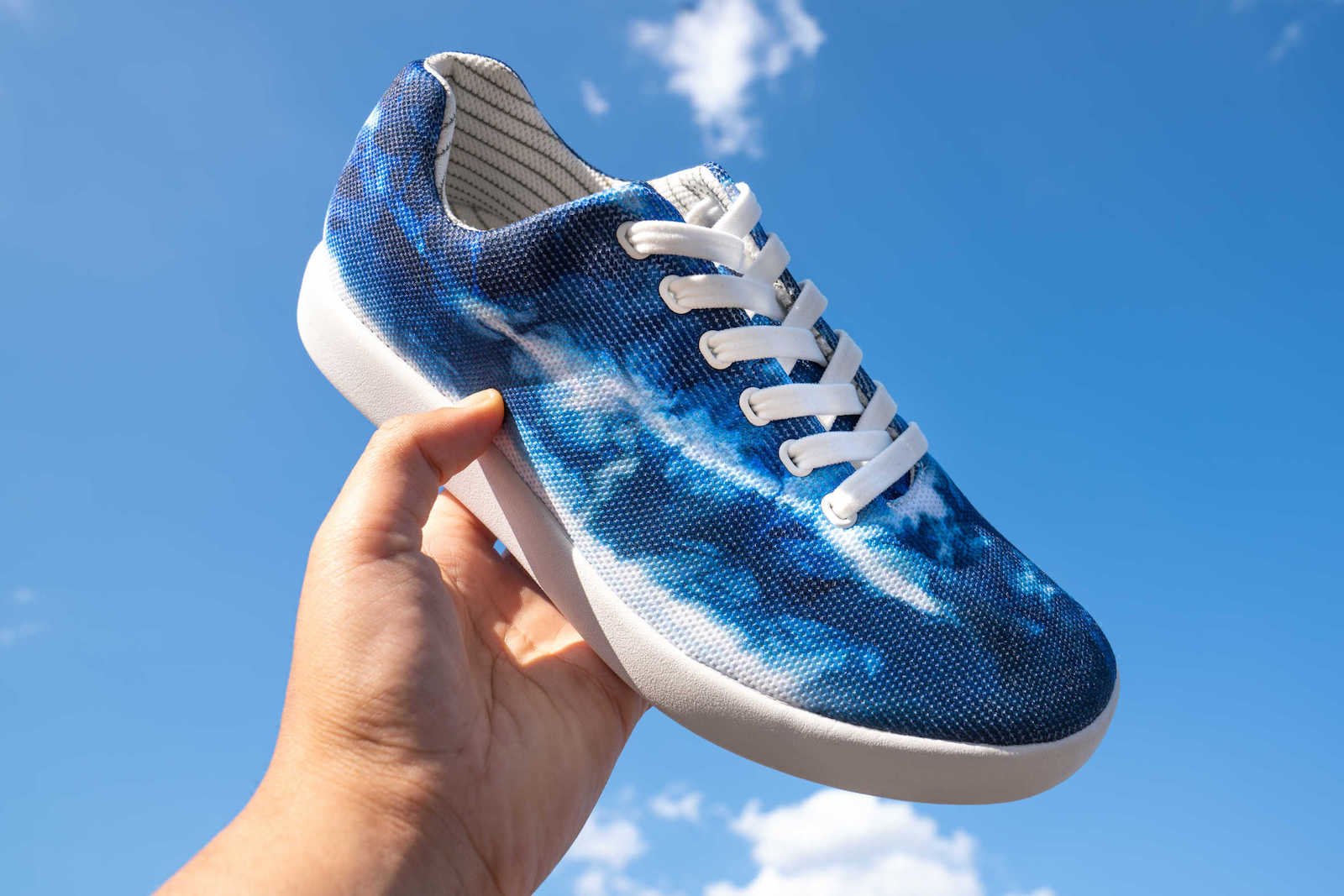 Atoms co-founder Sidra Qasim was staring out the window at the company's Brooklyn Navy Yard offices last winter when the Tie-Dye Blue Model 000 Atoms were born. "My desk was right next to the window," she recalled. "In the evening, the sky looks really beautiful, with a lot of clouds and all that." Masks were not yet normal, but the threat of COVID-19 was very real.
Qasim wanted to venture into nature for the latest Atoms colorway. "I was thinking about creating something which has a more natural aspect, and then we can play with some kind of pattern on our shoes, because they're very plain—like a blank canvas—and you could put anything on it, you could even create beautiful art of that," she remembered.
The rich colors of the sky commanded Qasim's attention, and she took photos to document the spectrum of hues. "If you look at how the sky changes color so basically it's not one dimension, it's a lot of colors coming together, like tie dye," she said. "Sometimes it looks completely white, and sometimes it looks blue, and then clouds appear and it's basically blue and white. When the sun goes down or changes, it is light in color, then a little bit more pinkish, an orange shade comes in, and then you also sometimes a little blackish tone in that. So, that's how the idea came into existence."
Then Qasim directed the production of the sneaker, keeping sustainability and innovation in mind. "We keep working on the environment, the size of our operation and product," she explained. "Some of those things are products, but mostly they are things in our supply chain, like how we can reduce the wastage in our supply chain. How we can work with all of the vendors who don't create a lot of waste in the environment." Even the smallest detail, such as the type of adhesive—hot melt at Atoms—is used, is considered when creating an Atoms sneaker. "That is a piece like a very hard piece and then you melt it and then you put it on the upper and anything that you want to glue, and that that is what was a big shift in our manufacturing because hot melt glue is environmentally friendly, and it doesn't create that smell."
Qasim found herself in touch with a South Korean vendor who manufactures recycled polyester, and by happenstance, that material also has a higher heating point than the traditional Atoms Model 000, which has a TPU-coated yarn poly blend upper. That higher heating point on the recycled polyester allows the shoe to go through a special sublimation printing process that uses less water than traditional dying and environmentally-friendly ink. The eyelets were made of recycled brass sourced from consumer and industrial waste, something Atoms has been quietly using. "We did a bunch of experiments as a sample testing," said Qasim. "So, printing was good, then I tested the shoes. They were durable, like you feel very comfortable, the feel was good."
With sustainability at the top of Atoms' priorities, Qasim and the Atoms team opted to have the shoes be made to order in order to reduce the carbon footprint and waste from excess inventory. The environmental impact is lower than the traditional method of ordering a set amount and hoping the quanitity sells out.
Since Qasim first dreamed up the tie-dye pattern inspired by the blue skies over the Brooklyn Navy Yard, the world is continuing to change drastically, as is Atoms. Atoms reallocated its manufacturing capabilities to produce masks as the threat of COVID-19 loomed, promising to donate one for each mask sold. After being confined at home for months, people took to the streets for Black Lives Matter, and an election is on the horizon. "From the idea to reality it took a lot of months," said Qasim. "I started at my desk and we kept evolving this into what it is today."