Limited Edition Atoms Release
Join wait list
Pre-Order until Sept 29, 2021
Shipping Starts on Nov 14th, 2021
Bitcoin reminds us of the early days of the internet
Anything is possible and it empowers the individual.
At Atoms, we started accepting bitcoin last year and have been touched by the stories of those abroad who can now participate in the global economy. We are a people oriented brand that wants to enable more creatives, builders, and activists.
Our founders grew up in Pakistan and know first hand about the luxuries we have in New York. In a country where most men are unbanked and women are only recently allowed to open bank accounts without a husband or father, there had to be a better way. Bitcoin is a tool that enables financial freedom - it is a natural fit given its open and permissionless nature.
We reached out to our friend Anthony Pompliano, one of the leading Bitcoin advocates, since he has been a long time supporter of Atoms. We wanted to humanize Bitcoin and expand the circle by opening the conversation for those that are curious. The result is a Model 000 release based on Bitcoin's underlying principles.
We also wanted to focus on Bitcoin's end goal, empowering the people who need it. Atoms and Anthony are donating a majority of the profits from the Bitcoin Model 000 to the Human Rights Foundation's Bitcoin Development Fund. They have done amazing work by increasing the accessibility for those who need it the most: the silenced and ignored.
"I wear Atoms every single day. They are the most comfortable shoes, but the people behind the brand are even better humans. They align perfectly with the Bitcoin ethos of freedom and sovereignty."
Thoughtfully designed shoes
Tie your shoe laces only once
We designed one of a kind elastic laces that make Atoms slip on and off easily.
Our proprietary lightweight outsole delivers cloud-like cushioning as you move through the day.
Whether you are taking a long walk, standing all-day, running to a meeting, out with friends, or catching a flight -- Atoms help you go further.
Antimicrobial copper insoles
Atoms insoles are lined with antimicrobial copper threads that kills bacteria and viruses. This helps eliminate feet odor and keeps your feet safe from germs.
Designed for comfort, the Atoms Model 000 features an antimicrobial copper lining, a cushioned insole, and an upper that adapts to your feet throughout the day.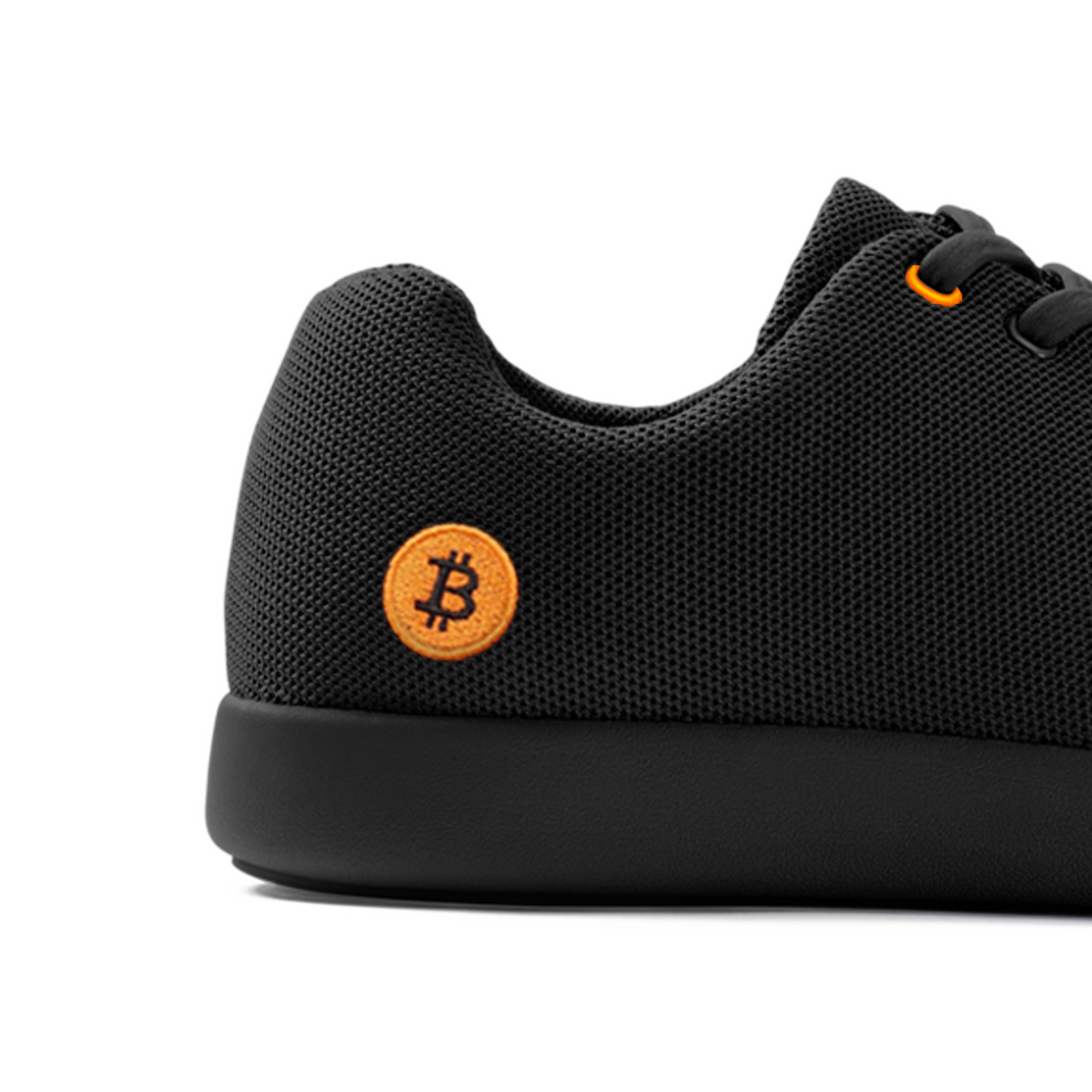 The everyday shoe for Bitcoiners
We hope the shoe will inspire people to be curious about Bitcoin. And for the Bitcoiners, we hope this becomes your favorite shoe.
Materials
High durability coated TPU yarn blend upper material.
Removable copper-lined insole.
Custom foam midsole.
Non-slip rubber outsole.
100% Vegan
Return and Exchange Policy
United States
These shoes, like our other limited releases will be custom made to order. Since we only make what is ordered these will not be eligible for returns. However we will allow for one free exchange should they not fit. All exchanges need to be done within 30 days of delivery so we can start another limited production run.
International
The same applies to international customers, but you will be responsible for the return shipping. We recommend using our Fit Finder prior to purchase.
Care instructions
For the occasional cleaning, use a soft bristled brush along with your preferred cleaning solution. Once you are done let your Atoms air dry.
For a deep clean, take the insoles out, keep the laces tied, add in shoe trees, put your Atoms in a linen bag or pillow case, and mix in towels or sheets to pad the washing machine in cold water on a gentle cycle. The midsole in our shoes is a custom foam that we developed to form to your feet for a personalized level of comfort. Heat will warp the size and shape of this foam so it must be washed in cold water. DO NOT MACHINE DRY. The midsole will distort its shape in the dryer so please let it air dry with inserts or shoe trees out of direct sunlight.
Warranty
Atoms come with a one year warranty from the date of purchase. This will cover material and workmanship flaws, but does not cover general wear and tear.
Getting involved in Bitcoin
If you are a merchant looking to accept bitcoin payments on your website or someone who is just getting started, we are happy to get you going by answering any questions you have. DM us your questions - anything from how to set up a wallet to getting your own node ready for Taproot - and our resident Bitcoiners will get back to you.
Why donate to the Human Rights Foundation?
We wanted to bring attention to Bitcoin's principles and what it can enable: freedom.
The Human Rights Foundation has been protecting and advancing freedom around the world since 2005.
The Human Rights Foundation developed a fund dedicated to furthering Bitcoin because Bitcoin is an important tool that enables economic freedom globally. We are proud to support the work that the Bitcoin Development Fund enables. We hope you join us by learning more and donating here.